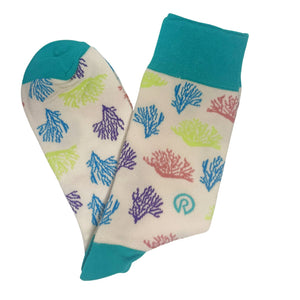 DETAILS
Coral Delight - Cream Base with Colorful Coral Design Socks | Relish Socks
Immerse yourself in the serene beauty of the Bahamas with 'Coral Delight' socks. These socks feature a soothing cream base, highlighted by vibrant coral heads, reminiscent of the rich underwater world of the Bahamian reefs. Teal accents at the top band and toe add a splash of oceanic charm. Crafted from combed cotton, nylon, and spandex, they ensure comfort and durability. The signature Relish logo elegantly blends in, symbolizing the blend of style and Bahamian culture. These machine-washable, imported socks are perfect for those who treasure nature's underwater marvels.
Made with combed cotton, nylon and spandex
Reinforced Toe and Heel
Signature Relish Logo on the ankle of each sock
Machine washable
Imported
 Note: Colors may vary slightly due to lighting.